We are excited to share that Associated Carriers has joined the Jetco team through a newly formed subsidiary called Associated Acquisition Company, LLC d/b/a Associated Carriers ("Associated"). Lon Lloyd, now operations manager for Associated, and his team members bring with them a 45-truck operation with a 55,000 square foot warehouse based in Arlington, Texas, and a drop yard in La Porte. This combination presents an unprecedented opportunity for growth and our ability to serve our customers throughout the region.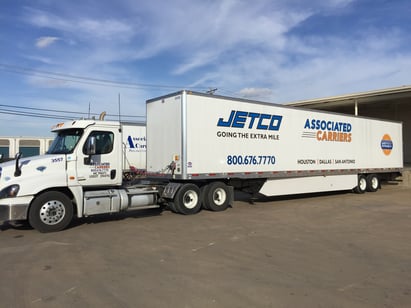 The decision to form Associated was based on the complimentary core competencies of each organization and how it directly benefits you. You will have more access to highly competitive rates and quality services including:
Van and intermodal
Regional and over-the-road moves
Warehousing in Dallas
Larger fleet, including the purchase of over 30 new 53' dry vans
Associated is our third major expansion in 2016. We also recently purchased Gooseneck Trucking, a Houston-based open deck operation that allows us to better support our customers' hot shot needs; and we opened a facility in San Antonio. We now have more resources available and are better able to cover your diverse freight needs. By establishing a presence in Houston, Dallas and San Antonio, we are equipped to handle cargo needs over these high value, high traffic lanes.
Associated and Jetco will continue to operate under their own names and operating authority, and the two teams will work hand-in-hand. Associated's information is as follows:
Associated Acquisition Company, LLC d/b/a Associated Carriers
DOT: 2944792
MC: 996573
We are happy to have the opportunity to grow our Jetco family in order to better serve our customers.
Request a Rate.
rates@jetcodelivery.com or 713.676.1111.