Preparing and shipping hazardous materials is a safety-sensitive, highly regulated responsibility. At Jetco, our team of hazardous material specialists has carefully laid-out guidelines to streamline the process, ensure full compliance with transportation laws and keep your cargo moving safely.
As a Jetco customer, you must follow the regulations just as our team does. It is important that you understand that if the shipment is DOT regulated it must follow all protocols ― and we're here to help you! We must be sure we send a qualified driver for the load and that all paperwork is in compliance before transport. It's important to note that hazmat storage and hazmat rules are not the same.
What are Hazardous Materials?
Federal law designates them as any shipments that "pose an unreasonable risk to the public's health, safety and property when transported in commerce."
Grades of Hazmat We Transport:
Class 1 (1.4, 1.5, 1.6): Explosives
Class 2 (2.1 and 2.2): Flammable Gas
Class 3 (3.1 and 3.2): Flammable
Class 4 (4.1 and 4.2): Flammable Solid
Class 5 (5.1): Oxidizer
Class 6 (6.1 and 6.2): Poison
Class 8: Corrosive
Class 9: Marine Pollutants

An Established Process to Provide You with Peace of Mind.
Before a truck is dispatched on a hazmat load, one of our dedicated specialists closely reviews all HAZMAT paperwork, which is supplied by the shipper. Each specialist follows a closely adhered to process, ensuring compliance with all applicable laws so that we can help prevent unforeseen delays. We also prioritize the safety of our customers, drivers and the general public, which is why we cannot deliver shipments that have incomplete or incorrect paperwork or that are in violation of the law.

Shipper to Provide Placards.
Don't forget, it is the shipper's responsibility to provide four placards representing each hazardous material class present to our drivers. Rail requires placards to be placed high, and DOT requires them to be at 2/3 height. Placards can only be removed once trailers or containers have been emptied and there is no residue.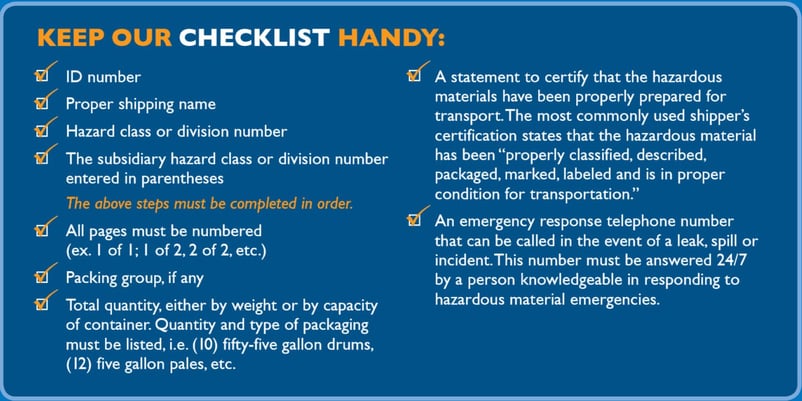 Did You Know?
Intermodal Containers Apply, Too. The same rules and regulations apply to transporting import and export containerized hazmat. Customers must obtain a written shipper's certification―whether domestic or overseas. Most steamship lines require that you pre-advise HAZMAT loads.
Want to Learn More?
We're happy to come to you and help teach your team more about transporting hazardous material so that we can drive to perfection each and every time.
Contact us to schedule a Jetco Lunch and Learn!
713.676.1111 │ sales@jetcodelivery.com
Have a Hazmat Load?
Contact us at hazmat@jetcodelivery.com