FOR IMMEDIATE RELEASE
Contact: Brooke Beall
Marketing & Sales Specialist
Jetco Makes First Donation to Texan by Nature as Part of Its $1 Per Load Campaign
HOUSTON, TX – With Drive for Conservation, Jetco committed to donating $1 per load delivered each month, starting July 2023, to Texan by Nature (TxN). Jetco President Kyle Kristynik presented Texan by Nature CEO and President Joni Carswell with a check for $5,330 for the number of loads Jetco delivered in July when he visited their Austin office on Friday, Aug. 11, 2023.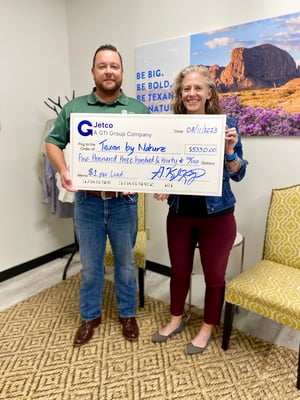 The Drive for Conservation campaign is part of an ongoing partnership between the two organizations in support of driving industry leadership in conservation and environmental sustainability. Proceeds from the ongoing campaign will benefit 2023 Texan by Nature 20 (TxN 20), an official ranking of companies with Texas operations and tangible commitments to conservation. The prestigious TxN 20 list will be announced at Texan by Nature's 2023 Conservation Summit on Nov. 7, 2023, at George W. Bush Presidential Center in Dallas, TX.
About Texan by Nature
Texan by Nature (TxN) unites conservation and business leaders who believe Texas' prosperity is dependent on the conservation of its natural resources. TxN, founded by former First Lady Laura Bush, acts as an accelerator for conservation groups and a strategic partner for business. TxN supports 130+ conservation organizations and has accelerated projects and programs that have impacted 7 million-plus people, 20 million acres, and all of Texas' 254 counties Get involved and learn more at www.texanbynature.org and follow us on Facebook @TexanbyNature, Twitter @TexanbyNature, and Instagram @texanbynature for the latest.
About Jetco:
Since 1976, Jetco has partnered with sophisticated shippers and intermediaries to meet their trucking and freight brokerage needs throughout the Gulf Coast. Through its family of companies, Jetco provides intermodal drayage, open deck, heavy haul, dry van, asset-backed freight brokerage, and warehousing services. Headquartered in Houston, Jetco maintains an office in Dallas and terminals in Pasadena, Freeport and Dallas. Follow us on Facebook and LinkedIn @JetcoDelivery.
Jetco is a part of The GTI Group, a Canadian-based specialized transport company providing integrated logistics and transportation services, including asset-based trucking, freight brokerage, air and ocean services, and warehousing and storage. For more information, visit www.thegtigroup.com.
###