For the past 9 years, Jetco has proudly participated in Wreaths Across America. This year we were honored to deliver Christmas remembrance wreaths to the Gold Star Families at Arlington National Cemetery.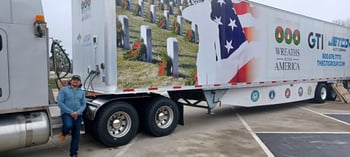 Our professional driver Christhiam drove from Houston, TX to Columbia, ME collected the wreaths and headed to the cemetery in Arlington, VA for the private ceremony. This was Christhiam's second year in a row and he hopes to continue playing a part in the future.
"There is nothing more honorable than remembering our fallen soldiers by volunteering for Wreaths Across America," says Vice President of Safety and former Marine Jeff McKinney.
This year on National Wreaths Across America Day the organization was able to reach 3,700 locations in all 50 U.S. states, at sea and abroad to show our veterans and their families we will never forget.
We are grateful to WAA for allowing us to participate in such a great cause and spreading their motto of Remember, Honor, Teach each year.