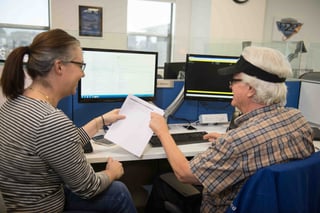 We sat down with Torri Esparza, Jetco's compliance manager, to find out all about the Tiger Team and what they do to ensure your Hazmat loads are handled safely.
What is the Tiger Team?
Jetco's Tiger Team is a group of Hazmat trained employees that audit in real time all hazmat paperwork given by the shipper to our drivers. The team ensures all information is in compliance per regulations. Should the paperwork need corrections, the team works with the customers to ensure the shipping documents are corrected before the driver departs the location.
When and why was the Tiger Team established?
The team was founded in 2013 because we are constantly trying to improve our processes. This team's specialized knowledge allows for value-added service to our customers.
What is the Tiger Team's process?
Step 1: Our driver scans the Hazmat shipping paperwork to our entire Tiger Team.
Step 2: One Tiger Team member reviews the paperwork via the 6 POINT CHECK regulations:
1: Page numbers: i.e. 1 of 1 or 1 of 3, 2 of 3, 3 of 3.
2: Emergency contact number (must be a 24 hour number) – cell phones do not count.
3: Shipper certification (including actual certification wording and shipper signature)
4: Quantity and package type
5: Weight
6: Actual proper shipping order
*****If there are multiple Hazmat codes, the Tiger Team checks the segregation table to see if any segregation is required. If it is required, our team members reminds our driver to be mindful of the proper segregation.
Who does the Tiger Team support/protect?
The Tiger Team exists to support and protect our drivers, the public, our customers and our company.
Why is the Tiger Team important?
Our drivers are our first set of eyes, and our Tiger Team is the second. If there is one mistake on the paperwork, it can not only lead to a bad DOT Inspection, but also, should the driver get pulled over or there be an accident, it can put the shipper, driver and Jetco at risk. It's important for shippers to understand that they are right alongside with Jetco when it comes to risk.
Have a Hazmat Load?
Contact us!
Hazmat Tiger Team: hazmat@jetcodelivery.com