Kent is the President of GTI USA in West Des Moines, IA, where he is responsible for business strategic planning and company vision. Kent also provides leadership to the company's top-level management, taking on the responsibility for budget and financial health of the organization while continuing to build strong relationships with clients.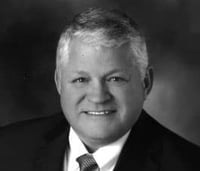 What Kent enjoys most about working for The GTI Group of companies, is to see how far GTI USA has come along. "GTI USA was built from the greenfield. We had nothing except the backing of Novacap and Richard. We built this from the concepts to functionality."
Kent's proudest moment is by far, the people! "The people, 85% or more of my current team has worked for me in the past. They believe in each other, and they have each other's backs."
Kent's professional background has consistently been on the upper management side of things. Kent was the president of GTE Domestic and International Transportation. He eventually moved on to become the president of Jacobson Companies where he played a key role in the development and creation of the logistics company. After successfully managing the logistics aspect of the company, Kent presided over Cagedlion and CRST logistics before bringing his experience and talent over to GTI USA!
A few facts about Kent:
Kent is a military brat who has traveled and lived in many places including: Panama Canal, Germany and Italy. He has moved 23 times in his life and career and traveled 180+ nights a year internationally for 2 years!
Kent graduated from Hawkeye Community College with a Bachelor of Arts in Commercial and Advertising Art. "I believe my education in Commercial Graphics gives me a different viewpoint on our business."
Kent is also a car enthusiast. "I am really into cars. I have a pickup truck that has over 700 Horsepower as well as a convertible Camaro SS that has 455 Horsepower." But nothing beats the love for his silver Labrador!
Favorite sports to watch: American football and enjoys hunting/fishing and golf.
Favorite travel spot: "Curacao and St-Martin are two of my favorite islands. I'm a big fan of cruises. I have 36 cruises under my belt so far!
Favorite movie of all time: The Last Samurai
What's on the bucket list: "Go to all of the national parks and do a 60- or 90-day cruise of the far east."
"My legacy will not be what I/we built but what we left inside each person. Hopefully, giving them, everything needed to define their own success." - Kent Jordan