Steve is the Vice President of GTI USA, where he focuses on market conditions, pricing, capacity sourcing and mentoring. What Steve enjoys most about working at GTI are the people, hands down! "We have so many dedicated, intelligent, humble, hard-working people in this organization that I am excited every day to see what we can achieve as a group. So fun!"
One of Steve's proudest moments was when he accepted Kent Jordan's (President of GTI USA) employment offer, "I have not regretted one moment of my time here. It is truly my honor to serve this organization and help them achieve their goals."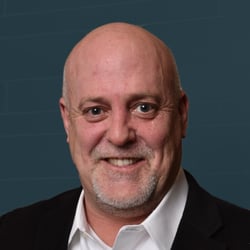 Born and raised in Iowa, the son of parents who had eight children and three sets of twins, he grew up in a middle-class family. At a very young age, Steve's parents taught him that nothing in life comes without effort.
Before joining GTI USA, Steve worked in the financial services industry. First as a stockbroker, then in venture capital and finally in insurance. Steve has always sold services (brokering) his entire professional life.
Interesting fact about his career: Steve was introduced to freight brokerage while playing in a Thursday night "Euchre" card league. A lifelong friend of his asked one question, "Mac, have you ever thought about being a freight broker?" His response, "What the heck is a freight broker?" The rest is history.
With that said, the most unusual job Steve held was early in his professional career. Steve worked for a financial company where part of his job was to be a Skip Tracer/Repo Man. In short, if one could not pay back a car loan, Steve would be responsible to hunt the person and repossess the car!
Mac's Mantra
"When presenting an idea or pitching a sale, it is important to remember there are two parts to this task, there is the message you are attempting to convey and there is your presentation. I have seen far too many good ideas fall by the wayside because someone pays too much attention to the message and forgets to perfect their presentation."
A FEW FACTS ABOUT STEVE:
Steve spent time living in California and Florida, but life kept bringing him back to Iowa. Steve has traveled to four continents and 47 of the 50 United States! The ones missing: Alaska, Montana and North Dakota. In 2019, Steve visited 297 cities and traveled over 38,000 miles for the year.


When asked what his favorite travel spot is, his answer is simple, HOME! "I love my job and what I do but there is no greater feeling for me than pulling into my driveway on a Friday evening after a week on the road."


Favorite sport to watch, baseball, hands down. Favorite sport to play, golf. If time permitted it, Steve would be on the golf course every day!


After high school, Steve played for a national fast pitch softball team where they qualified for the World Championship. The tournament brought together the best 32 softball teams in the world and he was the youngest player in the tournament.