At Jetco, we believe in supporting causes that our team is passionate about, and many of our team members expressed interest in raising awareness for breast cancer – particularly in the month of October. Did you know that on average every two minutes a woman is diagnosed with breast cancer? While there are more than 3 million survivors in the U.S. today, a cure is truly what we need. We're honored to have donated to Susan G. Komen Foundation to support their continuous effort to find a cure and increase awareness for breast cancer. While monetary support is extremely important, we wanted to take our efforts a step further. We decided to paint the town pink and show support to those who are battling breast cancer or know someone who is.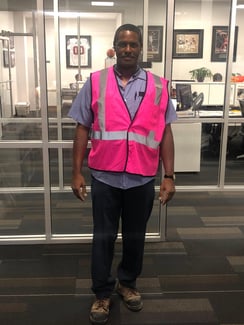 To begin painting the town we gave our team hot pink safety vests to wear. Our drivers are wearing them daily as they travel around the city. One of our professional drivers, Carlton, shared his thoughts on raising awareness this month: "It gives me a sense of pride knowing the company I work for is supporting a cause that affects so many people's lives."
Another way Jetco showed support to stand with those who are and have been affected by this disease was to design pink Jetco-logoed T-shirts to share throughout the community. Even Houston Mayor Sylvester Turner was honored to show his support with a pink Jetco shirt!
Next, we reached out to our clients and asked them to help us paint the town pink! Within hours requests for shirts to help support the cause were rolling in. More than 300 shirts were personally delivered to our clients with handwritten cards to show our appreciation. The overflow of photos our clients have sent us wearing their shirts helped bring our vision of painting the town pink to life. The support has been overwhelming, and we are truly grateful.
We're honored to have our efforts were recognized by the Susan G. Komen Foundation. Melissa Riehl philanthropic relations officer at Susan G. Komen stopped by our office to show the foundation's appreciation. Melissa even shared with us an astounding statistic that 1 in 8 women are diagnosed with breast cancer. So, while it may not run in your family, this is something that has and will continue to touch everyone in one way or another.
This is only the beginning of our support for this cause. While October is the official month to raise awareness, we want to keep this effort on the forefront of the communities' mind. Whether that is done by increasing education on different forms of breast cancer, how and when you should be getting tested, or even simply lending support to someone who is fighting their battle, this is and will continue to be a cause Jetco is passionate about and we hope you'll join us in our efforts.