Texas-based Jetco and Ontario-based Precision Specialized, both companies within The GTI Group, are honored to have won several awards from the Specialized Carriers & Rigging Association (SC&RA). The SC&RA is an international organization comprising more than 1,400 members from 46 nations.

For the second year in a row, Precision Specialized has received the President's Award, presented to a company whose employees have collectively recruited the most companies to join the SC&RA during the previous calendar year.
"The partnership we've built with the SC&RA and its members over the years has proved invaluable to us," said Precision Specialized President Ed Bernard. "We're thrilled to be recognized once again for continually investing in and growing our industry."

Jetco has won the 2021 Fleet Safety Award and the 2021 Zero Accidents Award. In addition, three of Jetco's professional drivers, Armando Martinez, Stefan (Dewayne) Mullins and Darrell Wheeler, have received Driver Safety awards from the SC&RA.

"These awards are a testament to our Driving to Perfection safety culture and the daily commitment our team – from drivers to office staff and leadership – make to our number one, nonnegotiable core value of safety," said Jetco President Kyle Kristynik.

"We're especially excited for our professional drivers – Armando, Dewayne and Darrell, as it speaks volumes about their dedication and expertise in safety and to the industry. We're so proud of them."
The SC&RA Fleet Safety Award is given to member companies with the lowest accident frequency rate in one of seven different mileage categories. Jetco earned top honors for having the lowest accident frequency rate in the five million to 20 million miles category.
The SC&RA Zero Accidents Award is given to member companies having zero recordable accidents or incidents during the previous year. Jetco was one of 11 winners in this award category.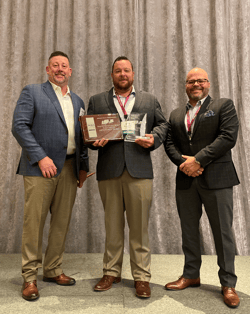 The SC&RA Driver Safety Award is given to drivers with five consecutive years of accident-free driving. Jetco's winners are three exemplary examples of its open deck/heavy haul drivers whose commitment to its safety culture has resulted in long tenures. Martinez and Wheeler have both driven for Jetco for 8 years, while Mullins has driven for Jetco for almost 14 years.
Jetco CEO / The GTI Group Executive VP Brian Fielkow said, "2021 marks the first year Jetco applied for these awards, thanks to a recommendation from our sister company Precision Specialized. These awards further demonstrate our dedication to partnering with the best of the best in our industry, and we're very excited to have been recognized amongst a prestigious group of transportation companies."
Firms across the U.S. and around the world submit dozens of entries to the SC&RA Awards competition each year. The Awards program recognizes worldwide excellence in the crane, rigging and specialized transportation industry.