Why you can rely on us - Sharing your sense of urgency
Expedited services can be used for several reasons and whenever the need arises, The GTI Group is ready to help take the stress out of the process. Your sense of urgency is ours, and your peace of mind is first and foremost for us. You need an expert team who understands your delivery requirements and timetable, and with 10 years' experience, we provide the top priority care your freight needs.
Here are the top 4 reasons why you can trust The GTI Group with all your expedited service needs:
1. Trusted Processes – Strategic Partner
With experience in a variety of industries, we know how to come up with seamless solutions to your complex challenges.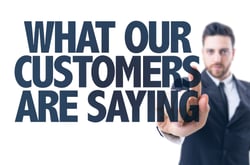 "We needed our electrodes and plates delivered in the morning, then have them picked up by 3 p.m. and returned by midnight to repeat the next day for about a month. We had a specific set time for pick-up and delivery and as you can imagine, this would have been impossible to accomplish with LTL that provides no guarantees in terms of strict pick-ups and deliveries. The professionalism and attention to detail is second to none!"
2. Cutting-Edge Technology - Customizable Service
Top rated tracking and tracing services
Know when your load will arrive down to the minute
"We needed our Hazmat batteries picked up on a Friday after 5 p.m. and delivered early Saturday morning via sprinter van. We needed hourly updates which GTI provided until the batteries were successfully delivered.
3. Elite Customer Service - Peace of Mind
Our responsive team with institutionalized knowledge on expedited services, backed by our air and ground services, will provide you with transparent communication from start to finish
Load updates at your preferred interval schedule
Your time-sensitive freight is our top priority
"We insisted to receive our network electronic parts at a specific time with crew and cranes on site waiting for the delivery to get things moving. This was not an easy job by any means. The terrain was rugged, and we provided no address, just coordinates! This kind of shipment complexity requires constant updates from dispatch and industry seasoned veteran drivers. The GTI Group provided us with exactly what we needed."
4. Strong and Extensive Network - Better Capacity
We work with a handful of expedited carriers with whom we've done repeat business
When selecting our carriers we take into consideration their safety record, geography, previous experience with similar type projects and most importantly, track record for on-time delivery
Have an upcoming urgent shipment? Let's talk about how you can trust us to meet your delivery requirements.