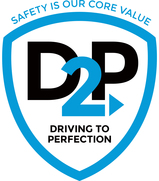 WHAT SAFETY MEANS TO US
Safety is The GTI Group's non-negotiable, first and foremost, above all else, core value. Nothing is more important to us, and we are uncompromising in our commitment to the health, safety and security of our employees, drivers, partners, clients and our community and environment.
Because safety is an integral core value and component of our business culture, each of our employees pledges a safety commitment when they begin working for us. We empower all employees to call a safety time out, to participate in proactively identifying, controlling and eliminating risk. We take care to give all levels of employees the tools to own safety.
Our safety commitment means we strive to:
Promote a positive attitude towards safety
Continually drive to perfection, working collaboratively to identify opportunities to develop and
implement safer habits
Maintain a safe, healthy workplace for all employees
Have zero injuries, occupational illnesses and incidents, all of which are preventable
Support investments in technology and other resources that help protect our employees,
clients, the environment and the public
Secure the physical and cyber integrity of our facilities
Partner with clients who share this commitment to safety and safe operations
In addition to complying with local and federal regulations around the world, we practice safe measures that go above and beyond. We have processes to help us identify, track, report and improve workplace issues, and we regularly review these programs and processes to ensure their effectiveness, relevance and timeliness. We provide ongoing training through multiple communication channels on road and office safety, compliance, health and business ethics. We require timely, thorough reporting and investigation of all incidents to ensure effective corrective actions are taken and lessons learned that can benefit the entire organization are shared.
As our organization grows and our world becomes increasingly interconnected, so does our enterprise-wide emergency action plan, which includes tools, processes and communications to support emergency response, employee and community safety, disaster recovery and business continuity. The plan services not only our offices in resuming disrupted operations and responding to crises, but also our surrounding communities, enabling us to coordinate operations and allocations to those around us in need.
Safety commitment extends beyond following processes. True commitment to safety means living and breathing our core values and encouraging all employees and their families to contribute personally to making our workplace, community and the planet a safer place.
Through constant communication with our employees and their families, we believe the safe practices applied at work also influence and benefit our families' and our actions at home. We actively encourage our employees to serve as positive role models and ambassadors of safety not just while on the job, but for the families and communities in which they are surrounded. Through individual accountability, we work together to make each day, each tomorrow, each life safer.