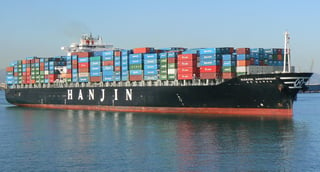 Hanjin's bankruptcy filing is sending shock waves through the global trade community. According to The Wall Street Journal:
"Hanjin, one of the world's largest shipping lines, stopped taking new shipments in the wake of the filing, according to a customer advisory sent to freight brokers in Asia. The carrier faced the possible detention of its ships under threats of seizure by creditors.
The filing with the Seoul Central District Court came just a day after the company's creditors cut off a lifeline, as financial assistance of more than 1 trillion won ($896 million) failed to keep it afloat. It is the latest domino to fall as shipping companies world-wide grapple with overcapacity amid a slump in global trade.
The news sent freight brokers and shippers scrambling to find space with other carriers as Hanjin was immobilized in the midst of the busiest season for exports out of Asia. Asia-based freight brokers estimate Hanjin's daily capacity at 25,000 shipping containers."
Jetco knows our freight forwarding customer and the industry as a whole are scrambling for options. Shippers and receivers are facing new cost and capacity pressures.
At the local level, here is what we see: both port and rail facilities are protecting their respective interests.
We have received the following from the Union Pacific:
Dear Intermodal Motor Carrier:
Due to Hanjin Shipping's receivership filing, effective immediately any pick-up from a UP intermodal ramp must be confirmed and authorized with Hanjin Shipping or the shipment BCO to ensure all charges are resolved prior to the motor carrier's arrival at the UP ramp.
In the event an Outgate is attempted without prior confirmation and authorization from Hanjin Shipping or the shipment BCO, the Outgate may be rejected. UP accepts no liability for any expenses incurred by the Motor Carrier if this process is not followed.
Please contact Hanjin Shipping or the shipment BCO with any questions.
Hanjin USA Customer Support Service
1-310-984-2130
Thank you,
Union Pacific Intermodal Operations
We have received the following from the Port of Houston Authority:
Good afternoon,
Effective tomorrow morning, September 1, 2016, loaded Hanjin containers will only be released from the PHA terminals with a payment of $100.00 per unit.
Hanjin containers will NOT be accepted.
Payment can be received in the form of a cash or check.
Cash:
Cash payments can be made at the terminal – we will provide a receipt.
Check:
Check payments can be handled:
Directly at the terminal (600 E. Barbours Cut Blvd LaPorte, TX 77571). Ask for Carla Williamson or Jennifer Aksoy. We will provide a receipt.
By sending a scanned copy of the check and a copy of the overnight slip to BCTYardServices@poha.com
Reference the container number
Reference a telephone number
Send payments payable to Port of Houston Authority to:
Port of Houston Authority
Lockbox 95279
3330 West Royal Lane
Irving, Texas 75063-6013
Once payment is confirmed received, the container will be released.
*Note: When applicable, exam payments will still be due before container can be released*
All questions should be directed to BCTYardServices@poha.com or 713-670-1100, option #2.
Regards,
Candice Armenoff
Customer Service Manager, Container Terminals
We received the following from TRAC Intermodal:
Based upon TRAC's discussions with Hanjin's management team and recent public announcements from Hanjin, any usage of a TRAC chassis for the purpose of moving Hanjin containers will be billed to the Motor Carrier for all moves originating on September 1, 2016 or thereafter. All such moves will be considered Merchant Haulage under the applicable TRAC Connect interchange agreement.
As your trucking partner, we will continue to monitor this situation. Due to the confusion and disruption stemming from the major development, all Jetco quotes and rate sheets pertaining to Hanjin moves are suspended. Any work will be done on a best-efforts basis and will be billed based on the circumstances at the time. We can assume no responsibility for any delays or other consequences relating to Hanjin container moves, and any and all out of pocket costs that we incur will be passed through.
If you have any questions or if we can help navigate this in any way, please do not hesitate to reach out to our Intermodal team at im@jetcodelivery.com or 713.678.6498.