What you need to know.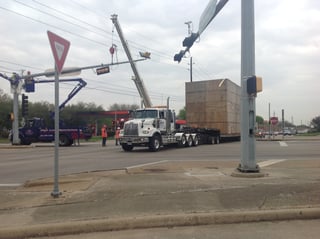 As of February 5, 2016, all loads 17 feet tall and above must be accompanied by an approved bucket truck to move within the Houston district (this includes: Brazoria, Fort Bend, Galveston, Harris, Montgomery and Waller counties).
These new regulations require the mover to email a copy of their permit and business contact information to the Houston District signal shop during 8am-4pm Monday through Thursday, 48 hours prior to moving in Houston District for approval.
What does this mean for you?
More Planning. Due to the additional steps and limited hours of the signal shops, more preplanning is required. Additionally, delays are to be expected due to increased demand for bucket trucks.
Potentially Increased Costs. With bucket trucks now required for applicable loads, costs will be higher. Additionally, some costs may not be easy to calculate with full certainty on the front end.
We are committed to working with you to ensure the safest and most cost-efficient way to move your loads. We ask for your patience as we all navigate this new regulation and its impact on both time and cost.
Find out more here.
For Bucket Truck Regulations, click here.
For required information to submit when requesting a bucket truck, click here.
Questions? Contact us at heavyhaul@jetcodelivery.com.