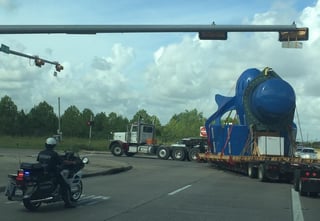 When it comes to moving a 110 foot long, 18.6 foot wide, 19.8 foot tall and 234,500 pound load, where do you start? With teamwork and planning.
Over the course of several weeks, Jetco project director Steve Simmons, heavy haul operations manager Bob Gruber, field safety director Jeff McKinney, and Jetco driver Kelly Dobson worked together to make this intricate move happen. From multiple route surveys to approval phases from the state and local district, the team took time to ensure all safety precautions were taken so that the load would be delivered safely and on time.
When the weeks of planning wrapped up, and loading and staging was finally complete on a Sunday morning at 6 a.m., it was time to hit the road. But, first, a safety and project stand down. "Our team, along with the police, civilian escorts, and bucket truck operators reviewed all aspects of the move—from the route to the radio channel, and even down to the simplest of details, such as lanes being identified as one, two and three, ensuring everyone is counting left to right," said Simmons. "There is no such thing as too much communication when it comes to moving loads for our customers, and it's what our team does best."
A bucket truck, three motorcycle police escorts, one front escort with a high pole, and one rear escort supported the move from 290 & FM 529 to the Port of Houston city dock.
The team also took the time to review which side of the truck a potential hazard could arise, and ensure that everyone communicates clearly and accurately. "We never say "left" or "right" side; we always say "driver" or "passenger" side. It may sound basic, but these moves and maintaining safe practices are all in the details," said Simmons.
The westbound lanes of Highway 90, east of Beltway 8, were completely shut down so the load could travel eastbound in the westbound lanes due to overhead clearance issues. After proceeding east on the westbound lanes, the eastbound lanes of Highway 90 were shut down so the load could travel the opposite direction of traffic back to the Beltway 8. In addition, the eastbound service road of I-10 was shut down as well. In the end, the entire move took four and a half hours.
It was essential that the team came together and clearly communicated. Each person had a crucial role in ensuring the load arrived safely. At Jetco, we take pride in our team's ability to properly execute—no matter the size of your load. As your trucking and logistics partner, our job is to offer you the best and safest solutions to provide you with peace of mind.
Interested in Jetco moving a load for you? Contact us.
rates@jetcodelivery.com or 713.676.1111