Let the Jetco team support you.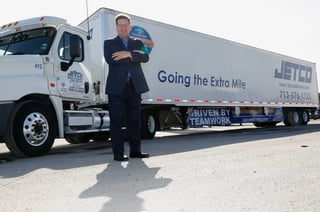 Helping you save money and strategically handling your transportation needs so that you can best satisfy your customers is what we do best at Jetco. It's about more than transporting your loads ― it's about partnering with you to maximize efficiency and deliver world-class service and safety. And, we want to share our ideas and listen to your feedback to help create an environment where everyone wins. With that, our Jetco Academy team ― the best of the best in their field ― would be happy to meet with you to discuss how we can support your specific needs.
Our job is to think outside of the box so that you save money and time, and we're here to help you navigate all of the moving parts of your projects. Thanks to our diversified fleet we are equipped and ready to put our team to work for you. But, what's the best way to maximize your transportation needs? Our customized presentations will explore a variety of ways to increase efficiency ― from moving away from the traditional trucking model and determining if dedicated service works best, to creating specialized and timely reports, warehousing opportunities, and more; the sky's the limit.
Let the Jetco Academy team experts help take your business to the next level by meeting with you to determine and define the optimum way to handle your loads.