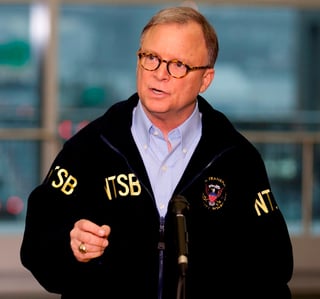 Member of the National Transportation Safety Board (NTSB) the Honorable Robert L. Sumwalt, III, was announced by Bombardier as the winner of the 2016 Safety Standdown Award. On behalf of Jetco Delivery, we want to extend our congratulations to our friend and leader in the safety world, Member Sumwalt. According to Bombardier:
Bombardier is proud to announce that the winner of the 2016 Safety Standdown Award is the Honorable Robert L. Sumwalt III, Member of the National Transportation Safety Board (NTSB). The award was presented at the 20th annual Bombardier Safety Standdown USA, held from September 27 to 29, 2016, in Wichita, KS.
Robert L. Sumwalt was nominated by his peers for his outstanding commitment to aviation safety and his continuous efforts to develop more robust safety programs within the aviation industry. Robert L. Sumwalt was appointed as the 37th Member of the National Transportation Safety Board in August 2006, whereupon President George W. Bush designated him as Vice Chairman of the Board for a two-year term. In November 2011, Member Sumwalt was reappointed to an additional five year term as Board Member.
"Robert L. Sumwalt is one of the most inspiring safety leaders in his generation. His high standing in aviation safety has been well earned through decades of highly visible advocacy and personal example. From flying commercial airliners, to managing a diverse corporate aviation department, to guiding major accident investigations, Robert is one of the most respected thought leaders in aviation safety today," said James Schultz, President, Jim Schultz Group.
This year's 20th anniversary edition was a great success with approximately 475 aviation professionals attending the workshops and general sessions, demonstrating the growing interest within the industry to empower and inspire a community of aviation professionals to continuously seek knowledge, integrate new information in everyday practice, and share new aviation safety findings with others in the industry.
"We are very proud to celebrate this great milestone. Since its inception, more than 9,000 people have benefited from the training offered through the Safety Standdown program", said Andy Nureddin, Vice President, Customer Support and Training, Bombardier Business Aircraft. "Our ongoing contribution to the betterment of the industry for the past 20 years is especially close to the hearts of everyone at Bombardier and we will continue to promote knowledge-based pilot safety training along with personal discipline and responsibility as essential elements of aviation safety and professionalism."
Next year's Safety Standdown seminar will be held from October 31 to November 2, 2017, in Wichita, KS.
About Safety Standdown
Originally conceived in 1996 as a human factors safety-training event for the Learjet flight demonstration team, the conference quickly garnered a reputation for excellence beyond Bombardier's customer base. In 1999, in response to growing interest within the industry, Bombardier opened the seminar to all pilots. In 2010, Safety Standdown expanded beyond the seminars into a year-round global human factors program offering online and social media resources. As of October 2015, more than 8,600 corporate, commercial and military aviation professionals have attended Safety Standdown seminars around the world, including Brazil, Canada, China, Mexico, Switzerland and USA.
About Bombardier
Bombardier is the world's leading manufacturer of both planes and trains. Looking far ahead while delivering today, Bombardier is evolving mobility worldwide by answering the call for more efficient, sustainable and enjoyable transportation everywhere. Our vehicles, services and, most of all, our employees are what make us a global leader in transportation.
Bombardier is headquartered in Montréal, Canada. Our shares are traded on the Toronto Stock Exchange (BBD) and we are listed on the Dow Jones Sustainability North America Index. In the fiscal year ended December 31, 2015, we posted revenues of $18.2 billion. News and information are available at bombardier.com or follow us on Twitter @Bombardier.