As corporate members of the Women in Trucking Association and a first-time winner of the Top Companies for Women to Work for in Transportation, Jetco proudly and excitedly sent three team members to the in-person Accelerate! Conference & Expo, held Nov. 5-7, 2021 in Dallas, TX. Two team members attended virtually as well, professional driver Rosa Vargas and Vanessa Thrasher, logistics coordinator.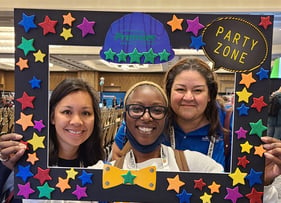 From the Houston office, Vice President of Marketing & Communications Katharine Lau Mohn met with Jetco DFW team members Ashanti Woods, Intermodal CSR/Billing, and Veronica Marroquin, Intermodal Driver Manager.
Over two days, the ladies networked with other female professionals, vendors and partners. They got a hands-on, in-person look at emerging trucking technologies. They also attending inspiring keynotes and informative breakout sessions on women-specific recruiting and retention strategies, how to navigate career conversations and as for what they want, career pathing, supporting fellow female peers, building confidence and competence in leadership and more.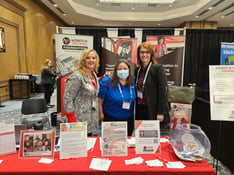 "It was a very nice experience. It was definitely great to be recognized by others who know about Jetco and things that we are involved in," said Veronica.
We look forward to increasing our participating in Women in Trucking as the association grows, and we already can't wait to attend Accelerate! next year.