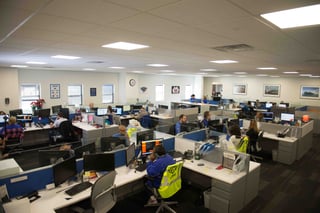 Visibility of your cargo on the move is essential to providing you with peace of mind. That's why Jetco Logistics uses cutting-edge technology to track outside carriers and third party drivers directly through their existing cell phones or ELD/GPS devices.
Our technology allows for real-time insight and updates so that our top-notch carriers can provide you with transparency. Through this technology, we are able to remove the guesswork from tracking your brokered loads during transit. This completely automated system ensures increased visibility and control to the shipping supply chain. In addition, this technology reduced outbound and inbound calls to and from our carriers, thus helping to ensure safety comes first.
Investing in the best technology allows us to best serve you. You can rest assured that your load is being delivered safe and on time through the location tracking, off-schedule monitoring, and arrival and departure detection.
Questions? Contact Jetco Logistics!
logistics@jetcodelivery.com or 713.676.1111