At the recent Texas Trucking Association (TXTA) 2017 Conference, Jetco was honored to receive the Great West Safety Award in the Open Deck/Van division for our outstanding safety record. It takes a team – from our drivers to our customer service, maintenance, dispatch and leadership – to keep safety at the forefront, and we're proud that safety continues to be upheld as a non-negotiable core value.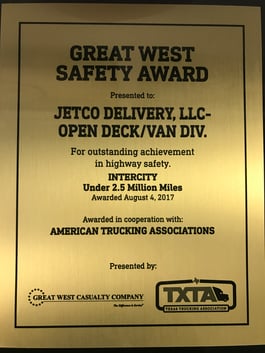 "Nothing is more important than the safety of our professional drivers and the public," said John D. Esparza, TXTA president. "In conjunction with Great West Casualty Company, we are pleased to recognize Jetco Delivery for their commitment to safety."
The award was presented for outstanding achievement in highway safety for under 2.5 million intercity miles.
"This is a great honor for our team," said David Simmons, Jetco open deck manager. "We work diligently to ensure our drivers are operating safely. To be recognized for that means a lot to our team."