Jetco Delivery is proud to be your strategic partner. We are constantly looking for ways to improve that partnership and capacity seems to be an area of improvement. In our commitment to be the "best of the best" we wanted to address a few areas where we can better work together to improve efficiency and productivity: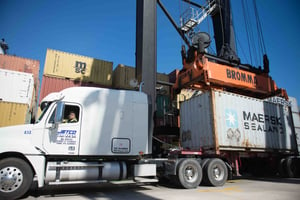 We appreciate you planning ahead when it comes to scheduling your import and export containers. It is a huge help. Even when you pre-plan, things can happen that are out of our control. For example, equipment availability, port congestion, customs holds, paperwork issues can all impact our mutual efforts to pre-plan. That said, please know that planning ahead is an ABSOLUTE BEST PRACTICE, and it helps ensure service reliability. Just be aware that there are factors outside of our control that can undermine our efforts to preplan.





As you are aware, demand has strained container and chassis availability. Finding the proper equipment can cause excessive delays. Because of this, additional, unforeseen charges are sometimes imposed, such as chassis splits, bobtail fees, etc. We will continue to communicate options and work to minimize all additional charges whenever possible. We also continue to grow our company owned pool of chassis.





Keep in mind our operations and team and drivers are willing to work early, after hours or on weekends to create more capacity. We appreciate any out of the box thinking on how we can make moving freight more efficient for everyone.





When possible, please allow us to communicate directly with warehouses who are packing export cargo so that we can ensure containers are ready. This information will avoid billable dry runs and needless detention time.





We cannot control port cut-off times when it comes to in-gating containers. Please help us ensure that our drivers have enough time to pick up and deliver your containers. For example, if a container is ready at 12pm for a same day cut-off, there are several variables beyond our control that could prevent timely delivery. Please allow us ample time to support your transportation needs. As volumes and congestion increase, we expect the need for greater lead times.





If you schedule an appointment, please ensure containers are ready at the scheduled time of pick up. Often a driver arrives to find the container is not ready, which results in waiting time and additional fees. Please note that standard free time does not apply with drop/hook scenarios.
Our goal is to provide you with peace of mind and serve you as solutions providers. We look forward to continuing to be your freight and logistics partner.
Should you have any questions, please do not hesitate to contact us.