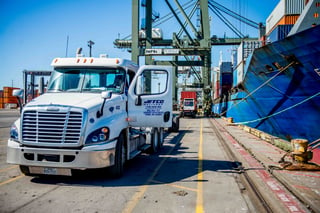 Did you know that Jetco consists of four companies―Jetco Delivery, Jetco Logistics, Jetco Heavy Haul, and Jetco Warehousing? Having all four companies allows us to tailor solutions that best fit your needs. It's about giving you options and helping you make the right decision when it comes to safely and successfully transporting your cargo.
As Jetco Delivery and Jetco Heavy Haul, we operate our own fleet of trucks and trailers, and have dedicated employees and owner-operators. We provide customized delivery solutions with a focus on Texas, the Gulf Coast region and surrounding states. Our diverse fleet of vehicles and trailers allows us to offer a wide range of options to you.
Jetco Logistics, our brokerage company, arranges premiere service of third-party trucks. Using pre-qualified, third-party carriers, we find the right match for your load―on schedule and at the right cost. We know the optimum lanes for our third-party carriers. Jetco Logistics utilizes cutting-edge technology to ensure the visibility of your loads traveling on third-party trucks.
Jetco Warehousing offers you the space you need to store your equipment. With 24-hour on-site security, we can accommodate your warehousing needs while also providing the transportation to and from our yard.
Jetco Delivery performs all billing and administrative functions for all four companies, so if you have questions about which service is right for you, contact us.
Contact Us!
713.676.1111