Do you know #WHATITAKES to deliver in just 5 days an aircraft engine across the globe to solve a costly Aircraft on Ground (AOG) situation?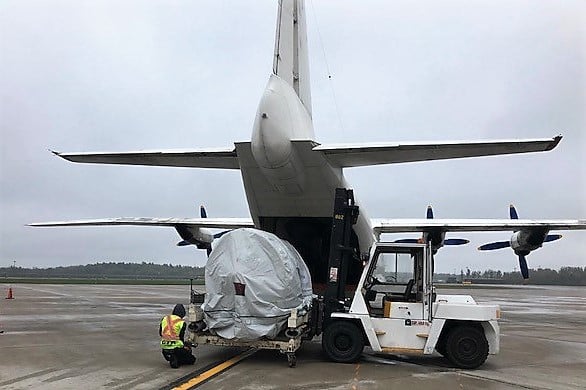 Here is the full story:
Initially, the job was "just" to send an engine by air freighter service from JFK airport to LGG airport and then to take it by truck to MXP airport (Milano), its final destination. Cargo was booked to leave from JFK on Oct 1 – arrive at LGG late morning Oct 2; +/- 2 days transit to Milano – ETA expected to be Oct 4. Smooth sailing.
CRITICAL NOTICE RECEIVED FROM CLIENT!
Friday Sept 28 09:30
The customer receives news that an aircraft is going "AOG" (aircraft on ground status) in Athens, Greece! The engine no longer to be dispatched to MXP but rather to ATH airport
Friday 10:00
Customer's requirements of scope of work changed to: "can you find team-drivers to bring engine from LGG to ATH so that it gets there asap…"
Solution/option is found: fly from LGG to ATH: 2730 km (1700 miles) – a 3 days journey putting ETA at ATH airport late day on Oct 5 / possibly, morning of Oct 6. The client finds it to be way too long with an aircraft AOG at ATH…
11:45 Friday morning
Customer's scope changed to: "can you find a charter aircraft to fly engine from LGG to ATH airport after it arrives on LGG on Oct 2"
We got on it contacting carriers both in Canada as well as in Europe and at 12:50 we an option with an Ilushin-76 Chap 4 freighter who would pick up morning of Oct 3 and to ATH late afternoon of Oct 3. This option was accepted by the client @ 13:40 Friday afternoon…
In same token, we mentioned that we awaited an offer to come in momentarily that would have cargo fly from YM (Mirabel) to ATH on Tuesday Oct 2; one technical stop in Northern Europe for fuel (it was chosen to be SNN airport in Ireland) with arrival to ATH by noon on Oct 3. Of course this option being the most expensive of three but arriving hours sooner which means aircraft requiring the engine will be up in the air quicker!
Friday 15:45
Customer accepted the last proposal: direct flight YMX-ATH; now, time to put execution into place….
Friday 17:20
The contract is finalized and signed off by both parties, GTI Global and Air Chartering Services. Initial flight route: YMX-KEF (Iceland)-ATH – ACS send off request to book the AN-12 (Antonov's "baby" brother!). The principal owners (located in Kiev, Ukraine) do what is needed to obtain flight route acceptance andlanding permissions in: YMX (Mirabel) / KEF (Keflavik, Iceland) / ATH (Athens)
Sunday 19:45
We received information from ACS that owners did not receive landing permissions at"ATH airport" and we suggested to obtain an "Urgency Letter" from shipper to explain why engine was required urgently in ATH (aircraft on ground).
Monday 10:20
The letter of urgency was obtained and passed on to ACS – all landing permissions confirmed to be received.Monday @ 14:25
All is set! Almost, have to bring engine from the GTI yard to Mirabel and with assistance of our colleagues in brokerage division, the engine was to deliver to TM on Tuesday, Oct 2 by 12:00 noon; aircraft was to arrive @ 13:15
Monday 13:18
AN-12 tail nbr 5478 arrived at YMX and it took only 1h10 to have the engine loaded in the plane.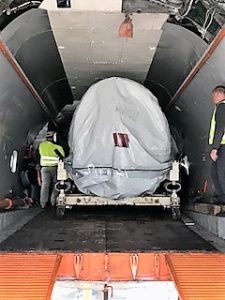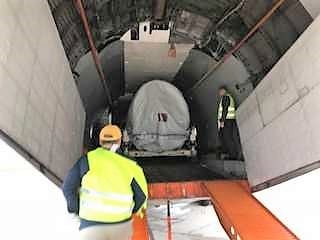 Aircraft left YMX @ 15:17; 1 hour ahead of scheduled departure
Tuesay 22:40
Message was received saying that aircraft bounded to Iceland had to be rerouted to SNN (Shannon, Ireland) due to strong head winds
Wednesday 04:10 local SNN time
Aircraft landed; refuelled and was up in the sky once again @ 06:05 – ETA to ATH 12:40 p.m.
Tuesday, Oct 3 @ 11:40 local time
AN-12 tail nbr 5478 landed at ATH airport
Oct 3 @ 12:55
Engine was confirmed off the aircraft and awaiting for consignee to arrange for customs clearance formalities
All the while, we ensured that all parties concerned: Shipper / consignee and notify party at destination were kept updated on an actual live-time basis (as milestones changed)
Everything went as well as could be; spoke to both shipper and consignee overseas earlier today and both were of same opinion:
GTI did #WHATITTAKES in a most professional manner; now onto the next challenge